Hi Everyone,
Last week I mentioned that I was on a tour of Ireland.  We returned home Friday from a really great trip.  The Irish weather cooperated and we had a wonderful group of people traveling with us.  I wanted to include a few more pics from the tour: View from lunch stop on the Ring of Kerry,  Blarney Castle Fern Garden (Thanks,Steve) Our last night stay at Cabra Castle,(Thanks, Ann), Cliffs of Moher.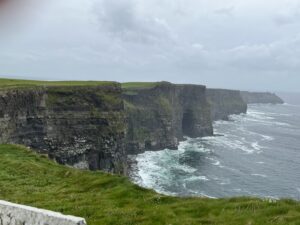 In other news this week, the travel industry was pleased that the Biden Administration plans to revise its Cuba policy to bring back group travel in the people-to-people category and allow charter and commercial flights to Cuban cities other than Havana.  Further details have not been released.
Delta is joining United in rolling out bluetooth headphone support on their latest jets.  It is in the testing phase now but soon you'll be able to use your wireless AirPods and other wireless headsets.
Disney World theme park tickets and resort bookings for 2023 will officially open on June 8.  Also, you will no longer be able to purchase the Genie+ service when booking.  You will need to purchase it on the day of your visit, via the app, one day at a time, subject to availability.
We have all seen things like scarce rental cars, shortages of pilots and other airline workers, full hotels etc.  This week I read an article about the scarcity of available airport parking.  Do yourself a favor, particularly around peak times like holidays,  and reserve your spot ahead of time.  Most airline and off airline property lots, let you reserve in advance so you can be assured of a spot when you arrive.
2022-23 Tours
June 18-26, 2022  Spectacular Canadian Rockies   We will begin this awesome tour in Vancouver, and travel to Victoria Island, Kamloops, Jasper National Park,the Athabasca Glacier, Lake Louise, and Banff National park.   Trafalgar
Alaska: America's Last Frontier, August 4-12   This is a land tour.  Highlights include Fairbanks, Gold Mining, a visit to the Trans-Alaska Pipeline, Dog Mushing, Denali National Park, Tundra Wilderness Tour, Talkeetna, visit to a Musk Ox Farm, Anchorage, Prince William Sound Glacier Cruise.  I have a very limited time to offer this so call if interested.  Collette Vacations   https://gateway.gocollette.com/link/1088994
August 7-15   7 day round trip Venice, Croatia, andGreek Isles with Santorini, and  Mykonos.Call for pricing and availability. Norwegian Cruise Line
September 18-30, 2022 Rhine, Moselle, and Blissful Baden-Baden    Spend 2 nights in the beautiful spa town of Baden-Baden and then board your ship for a cruise up the Rhine and Moselle rivers.  We will visit Strasbourg, Speyer, Frankfurt, Rudesheim, Boppard, Cochem Bernkastel and Trier before returning home from Frankfurt. Uniworld Cruises   I have a couple of rooms available.
October 2-10, 2022  Autumn Colors    I have just a few openings on this tour to the East Coast.  Fly in and out of Boston and visit Lexington, Concord, Woodstock, Burlington, the White Mountains, Kancamagus, North Conway, Bar Harbor and Acadia National Park before heading back to Boston along the coast.  Call for info. Trafalgar
2023
January 17-February 1   Panama Canal      This is a full transit of the Panama Canal through the new locks from Los Angeles to Ft. Lauderdale.  Ports of call include Puerto Vallarta, Huatulco, San Juan del Sur Nicaragua, Puntarenas, Costa Rica, Panama City (Fuerte Amador), Locks transit, and Cartagena, Colombia before disembarking in Ft. Lauderdale.  Princess Cruises
April 29- May 10, 2023     Discovering Poland     We'll visit Warsaw, Gdansk, Torun, Wroclaw, and Krakow.   Check out the itinerary at https://gateway.gocollette.com/link/902378      Collette Vacations
June 17-23, 2023New!! Viking  Cruise down the Mississippi   Join us as we cruise from Memphis to New Orleans on a cruise called Heart of the Delta.  I was only able to get 10 cabins as Viking usually does not do groups on this cruise as it is too popular.   I have very few cabins remaining.  Believe it or not, I could not get cabins for 2022.   We will begin our journey in Memphis,  and sail to Vicksburg, Natchez, St. Francisville, Baton Rouge, and Darrow, Louisiana before arriving in New Orleans. The cabins that I have are balcony cabins. Right now air is being offered for $399 per person out of Detroit.   Let me know if you are interested.
July 11-22, 2023  Alaskan Cruise This is an 11 day cruise beginning in Fairbanks and ending in Vancouver.   You will experience Alaska on land for 4 days and then board your ship for a 7 day cruise to Vancouver.  Call for more info and itinerary. Princess Cruises
September 1-9 Castles Along the Rhine   Enjoy the beautiful scenery of this wonderful region from your Uniworld ship, the S.S. Antoinette.  You will embark in Basel, Switzerland and visit Strasbourg Speyer, Rudesheim, Boppard, Koblenz, and Cologne before disembarking in Amsterdam.
September 6-13Rhine Getaway   Explore one of Europe's best-loved rivers, the Rhine. Discover the turreted fortresses, grand cathedrals, historic cities, medieval towns and spectacular scenery of the Middle Rhine—a UNESCO World Heritage Site. Taste the region's renowned white wines.  Savor the various culinary traditions of Alsace. From Amsterdam and Cologne to Basel, this journey reveals a rich landscape of beauty and culture.  Viking
September 30-October 14, 2023 Spains' Classics and Portugal Highlights include Barcelona, La Sagrada Familia, Valencia, Paella Experience, Granada, the Alhambra, Seville,Cordoba, Madrid, Prada Museum, Toledo, Elvas, Lisbon, Belem Obidos and much more. Collette Vacations  https://.gateway.gocollette.com/link/1103746
Coming soon!  September, 2023   California Dreamin'    Visit Monterey, Yosemite, Lake Tahoe, .   Napa Valley, and end in San Francisco.  Collette Vacations