Hi Everyone, We just finished a stunningly beautiful trip to Italy.   Our group of 46 people began our trip in Rome where we visited the Coliseum, Pantheon, the Vatican Museums, and the Trevi Fountain.   We were also present at the Pope's weekly audience.  From there we journeyed to Sorrento and the Isle of Capri.   We also had a great excursion to Pompeii.  After an evening in Assisi  we stopped in Padua.  Next up was Venice where we visited the glass blowing factory, St. Mark's Basilica, had a gondola ride, and taxied down the Grand Canal.  We also  visited the small fishing village of Burano for a delicious dinner.   Lake Como and Lake Maggiore were next up.   We had boat rides on both lakes-no George spotting however.  We took a train ride and experienced a little of the Alps on the Swiss border. On our way to Florence we stopped in the little town of Lucca for lunch.   Once in Florence we saw the sculpture of David and took a walking tour of the town followed up with a true Tuscan dinner.  On our way back to Rome to catch our plane we paid our respects at the American war cemetery and stopped at San Gimignano.    We have had a full 13 days!  The people you travel with can, in many respects, determine the quality of your journey.   This  group was outstanding and I thank them very much for traveling with us.   I've included a few pics of our trip. My normal blog will return next week.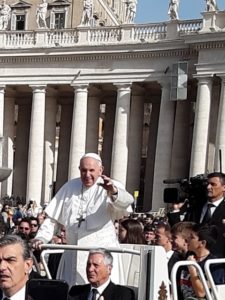 2020
May 17-28, 2020   Alpine Explorer and Oberammergau  We will explore a bit of Switzerland and Austria before arriving at Oberammergau for the Passion Play.Some of the highlights of this trip include Lago Maggiore, Island Dinner, Zermatt, Glacier Express Train, St. Moritz, Innsbruck, Salzburg, St. Peter's Restaurant, Mozart Dinner Concert, Munich, Oberammergau Passion Play, Linderhof Palace, Füssen, Neuschwanstein Castle.   Check out the itinerary:   https://gateway.gocollette.com/link/817395
May 30-June 7, 2020    Paris and Normandy River Cruise  Check on availability.
June 13-21 2020   Colorado Rockies  We'll fly in and out of the Mile High City of Denver and then travel to Grand Junction.   We'll visit the Colorado National Monument, Arches National Park, Canyonlands, National Park, and Mesa Verda National Park. We'll then travel to Durango and ride the Silverton RailRoad before ending our trip in Colorado Springs.  Ready for deposit.
August 15-23 Canadian Rockies  We'll fly into Vancouver and after enjoying the sights of Vancouver and Victoria, we'll head up to Kamloops and then to Jasper National Park. We'll see the Athabascan Glacier from our snow machine. We'll visit the spectacular Lake Louise and then on to Banff.   Ready for deposit.
September 12-23, 2020  Discovering Poland     Ready for deposit!  Check out the itinerary at https://gateway.gocollette.com/link/902378
October  6-14, 2020  Autumn Colors   We'll fly into historic Boston and then head to Lexington and Concord where the "shot heard round the world was fired".  We'll head through the Berkshires, stopping at a historic mill and glass blowing facility.   We'll visit the historic town of Woodstock.Sample some Ben and Jerry's ice cream at their factory before venturing into New Hampshire and and stunning of views of Mount Washington, the tallest peak in the northeast.  We'll visit Acadia National Park and the beautiful town of Bar Harbor. On our way south we'll journey past lighthouses, fisheries, and seaside dwellings before arriving at Portsmouth, one of the oldest cities in the United States.   This is a very popular trip that will fill quickly so deposit asap.
November 2020   Panama Canal Cruise April 2021    Lynn and Lidia's Sicily and Southern Italy tour with sant'ippolito!   Stay tuned for more information.
Have a great week!
Lynn