Hi Everyone,
We just finished our tour of Spain and Portugal.   It was a great trip filled with amazing sights, delicious food, and wonderful people. Last week I told you about our tour up to Seville.  We then moved on to Cordoba where we toured the 8th century mosque that was converted to a cathedral in the 16th century.  We then boarded the high speed train for our trip to Madrid where we enjoyed 2 nights.  We moved on to Toledo before traveling to Portugal.  We spent a night in the small  village of Elvas where we spent a wonderful night in an extraordinary former cloistered convent.  We were then off to Lisbon where we enjoyed the vibrant big city and took an excursion to the Portuguese Riviera.  I have attached a few more pics:
Alcazar in Toledo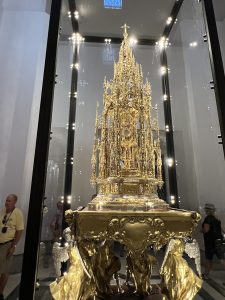 Monument to the Discoveries, Lisbon.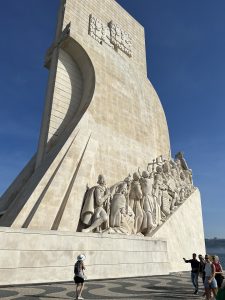 View from our patio in Elvas, Portugal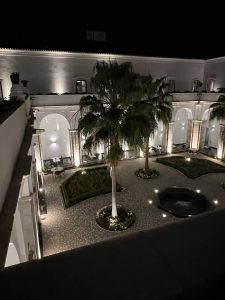 In other news,  the National Parks Service issued a warning about "love locks".    These popular objects are padlocks that are hung from a metal fence, often bearing a couple's names or initials and the key is then thrown into the water.  This is a concern at the Grand Canyon  as the critically endangered California condor is attracted to shiny things, and as a result some of the birds have eaten keys and have required surgery to remove them.    These love locks have been a nuisance in other cities.   At Paris' Pont des Artes, the locks became so heavy they were damaging the structural integrity of the bridge.  When the city of Paris removed the locks in 2016 the weight of 700,000 metal objects was the equivalent of 20 elephants!-CNN Travel
This summer I posted about long wait times for renewing or applying for passports.  The good news is that it appears that the wait time has decreased now that the summer crunch is over.   Passport processing times are now two weeks faster with only 8 to 11 weeks required for routine service, and 5-7 weeks for expedited service according to the Department of State.  I would still caution you to apply early.  You don't want a bucket list vacation to be ruined because your passport didn't come in time.
If you are planning to fly over the holidays this year, you may consider getting your air booked sooner rather than later.  Prices for these flights often jump many months before the holiday season.  if you haven't booked your Thanksgiving flight it is probably too late to get a deal or even a seat.    If you are traveling around Christmas or New Year's  there is still time but prices are increasing so you may want to take a good look.
2024-25 Tours and Cruises
May 3-12, 2024 Milan, Venice and the Jewels of Veneto   Spend 2 nights in the beautiful city of Milan before boarding the ship, the S.S. LaVenezia, in Venice.  While in Milan, you will have an opportunity to take a city tour and also view DaVinci's 'Last Supper'.  Once aboard your ship you will enjoy all that Venice has to offer but the ship will also take you to many of the Venetian Islands such as Burano (my favorite),  and Torcello.  you will  discover Chiogga, a charming port loved by fisherman.You will also have a choice of exploring Vincenza or Padua.   Savor the wines and cuisines of the region every step of the way.  A Few rooms remain.    Nice little video:  Uniworld https://youtu.be/fTlHgKQXKJI. 
May 12-22, 2024. Countryside of the Emerald Isle.  If you have traveled to Ireland and loved it, this is part two.  If you have never been to Ireland, this is an amazing journey that will instill that love for the Emerald Isle.  This is not the same tour that we normally do.  This explorations tour is limited to 24 people going slightly off the beaten path.  We will fly into Dublin and then head south. We will head to the National Stud Farm where you will see amazing thoroughbreds and opulent gardens.  Stand at the rock of Cashel where St. Patrick is said to have preached.  Visit the coastal town of Kinsale to enjoy the shops and galleries before heading to the Old Midletown distillery, home of Jameson Whiskey. Visit the Garnish Islands and move on to Dingle where  you'll enjoy a drive along the Dingle peninsula.  Take a ferry over to Inishmore, the largest of the Aran islands. where we will spend an amazing night.  See the Cliffs of Moher from a ship before ending our trip in Ennis and flying home from Shannon.  Truly a spectacular trip. Maximum number of passengers is 24.  Collette   https://gateway.gocollette.com/link/1149854
 July 10-20, 2024 Princess Alaska Cruisetour.   This is a magnificent cruise tour. Stay three nights on land to enjoy the beauty of Denali State Park and Denali National Park.  Then take a bubble top train toWhittier to board  the beautiful Sapphire Princess for a seven night cruise.   Cruise Glacier Bay and visit the Alaskan towns of Skagway, Juneau, and Ketchikan.  Princess
August 10-17, 2024 Iceland's Natural Beauty. Discover Iceland's majestic shores as you explore this northern isle's coastal towns. Encounter unparalleled natural beauty and witness cascading waterfalls amid pristine fjord landscapes. Discover Viking heritage as you follow in the footsteps of intrepid explorer Leif Eriksson. Or observe the wealth of wildlife, from puffins to the gentle giants of the sea. Join us for a truly immersive experience that brings you closer to nature and all her splendor.-Viking Ocean
September 10-19,2024 British Landscapes. An adventure fit for a Shakespearean tale takes you from verdant hillsides to bustling British cities rich with culture. Explore The Athens of the North during your stay in Edinburgh. Explore the ruins of a Roman Fort during a visit to Hadrian's Wall. Enjoy medieval York and its historic Minster. See the picturesque village of Llangolen in Wales. Walk in the footsteps of the Bard, visiting the childhood home of William Shakespeare. Personalize your tour with a choice of included excursions in Edinburgh and Oxford. See the quintessential sights of London with a local guide. Sleepy villages, grassy slopes, mountainside lakes, and cities built upon layers of history – these are the landscapes of Britain. https://gateway.gocollette.com/link/1184777
New Tour! September 21-October 2, 2024 Italian Vistas. Short notice tour.   All reservations for this tour must be made by  mid January.  This is due to availability issues in the month of September.  
We have scheduled an informational Zoom meeting for October25 @4:00pm.  There is no obligation and no pressure but you will learn a lot about this tour and the areas we'll visit.   My Collette Rep and friend, Ed McKenna, will walk us through this fabulous tour.  You can register for the meeting at     https://collette.zoom.us/meeting/register/tZEld–uqzkpGNB6_VJsFpOj0Ugh8ypPFYuR
From the ancient ruins of Pompeii to the charm of the Sorrento Coast embark on a spectacular Italian getaway.  Visit the amazing city of Rome and Vatican City, Pompeii, Sorrento, Florence, Pisa, and Venice, The trip will end in Stresa in the Lakes District.  Collette
https://gateway.gocollette.com/link/1205618
September 28-October 7, 2024    Best of Greece    Take advantage of group pricing on this amazing cruise.   Visit the ports of Athens, Santorini, Ephesus, Turkey, Mykonos, Volos, Thesaloniki, and Kavala before disembarking in Athens.-Celebrity Infinity.
May 4-12,  2025  Paris and Normandy River Cruise.   This cruise will begin and end in Paris.   Cruise from Paris through Normandy's countryside, uncovering its many charms: Cha?teau de La Roche-Guyon, the medieval capital of Rouen, Monet's beloved home in Giverny and the famed Normandy beaches.  Experience a different side of Northern France's history with a tour of the majestic palace of Versailles, once home to Louis XVI and Marie Antoinette.   I only have 15 rooms so if you are interested, let me know.
Have a great week !
Lynn